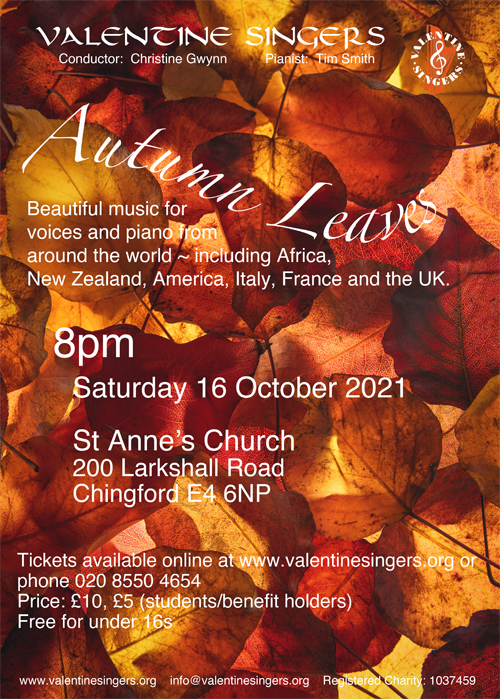 Saturday 16 October 2021
Autumn Leaves is our return concert after 18 months of lockdown!
It will feature an array of gorgeous music for voices and piano from around the world, from Africa, New Zealand and America to Italy, France and the UK.
Tim Smith will be performing some seasonal piano music to complement the choral pieces. 
We are pleased to be back at St Anne's Church in Chingford and grateful to the church community for their welcome and support. 
Tickets 
£10
£5 for students/ benefit holders
Free admission for under 16s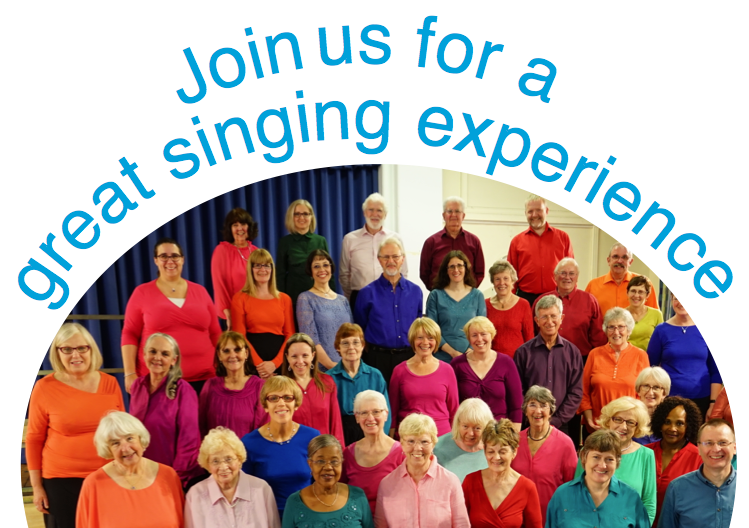 Friday 22 October 2021
Open Rehearsal
Seven Kings School secondary site
Ley Street Ilford IG2 7BT
Anyone with an interest in choral music is welcome to spend an evening with us and to find out more about Valentine Singers.
We will be exploring a variety of music as sung by the choir and visitors may sing or just listen. There will be an opportunity to chat to members of the choir and ask any questions.
There is no charge for the event and we'll lend you the music you need.
Please arrive at 7.30 p.m. for a 7.45 p.m. start. End of rehearsal 9.45 p.m.
Looking ahead:
Other dates for the 2021-22 season
For further details as these are confirmed, keep an eye on the website and on social media
Friday 17 December – Christmas Concert
Saturday 22 January – Spring Workshop
Saturday 26 March – Spring Concert
Saturday 9 July – Summer Concert
Box Office: 020 8550 4654