Valentine Singers Abroad 
Choral music for any time and place
 
The music on this CD represents the wide range of smaller pieces that the Valentine Singers have built into their repertoire and enjoyed performing on tour, both in England and abroad. As a complement to oratorios, choruses from opera and operetta and other large-scale choral works, the members of the Valentine Singers enjoy the variety, challenge and fun of smaller scale music from around the world. 
Italy, Austria, France, the USA and Africa are all represented here alongside a number of pieces from Britain. Several sacred items are included which the choir has sung both in concert and liturgically in England and Italy, most memorably in the Basilica di San Marco, Venice. The secular pieces range from folk songs, madrigals and part-songs to twentieth century popular hits and have been performed by the Singers in churches, halls, hotels, a mansion and even under canvas (twice!). We hope that, wherever you are listening to this music, you will share the tremendous enjoyment that we have experienced through exploring such diverse musical delights.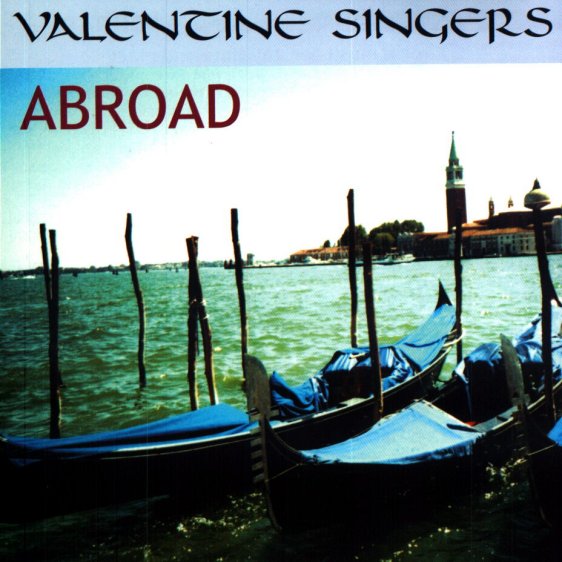 Fanfare – Martin Shaw
Oculi omnium – Charles Wood
Cantate Domino – Giuseppe Pitoni
To my humble supplication – Gordon Jacob
Siyahamba – Zulu traditional
Sanctus – Franz Schubert
Fa una canzona – Orazio Vecchi
April is in my mistress' face -Thomas Morley
Souallé – African traditional
Sweet and low – Joseph Barnby
The Lord is my shepherd (Psalm 23)- Howard Goodall
Lebenslust – Franz Schubert
Der Tanz- Franz Schubert
Clair de lune – Claude Debussy
Shenandoah – American tradl arr. Runswick
Blue moon – Richard Rodgers arr. Blackwell
Sunrise, sunset – Jerry Bock arr. Leyden
The Continental – Con Conrad arr. Blackwell
'S wonderful – Gershwin arr. Blackwell
Ain't misbehavin' – Thomas 'Fats' Waller & Harry Brooks arr. Gritton
Bethlehem Down
In this recording we have endeavoured to capture something of the essence of a Valentine's Christmas, from the grand carols with organ, trumpet and timpani to the gentler settings, reflecting quieter, more intimate and even poignant aspects of the Christmas story – not to mention the very special Spectrum Singers youth choir.  Many styles, eras and cultures are represented, from the ancient Latin Gaudete! – Rejoice! Christ is born – right up to various contemporary settings and arrangements and including many carols based on folk music and traditions from around the world.  Wherever you listen to this recording, we hope it will bring you something of the true spirit of Christmas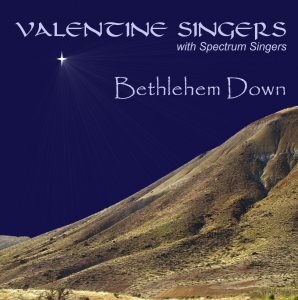 TRACKS
Here we come a-wassailing
Gaudete!
The angel Gabriel from heaven came
Of the father's heart begotten
Torches
God rest you merry, gentlemen
The boar's head carol
Away in a manger
Bethlehem Down
Tàladh Chriosta
Child of God
It came upon the midnight clear
The linden tree carol
Good King Wenceslas looked out
I saw three ships come sailing in
Infant holy, infant lowly
Silent night
In the bleak mid-winter
Il est né, le divin enfant
Love shone down
Tannenbaum
A dream of Christmas 
Ding dong! Merrily on high
A merry Christmas
Unto us is born a son